Requesting a Marketing Blast
This section, we will teach you how to request a marketing blast.
Marketing Blast are not sent immediately. It will be put up as a request for our staff to check through and approve the send or filter with DNC first before we send.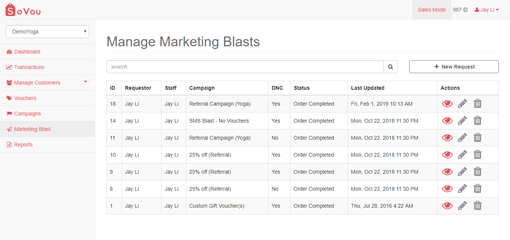 Access your Marketing Blast
Here you will be able to see all the marketing blast you have requested and their status.
Step 1: Click on the "Marketing Blast" button at the sidebar menu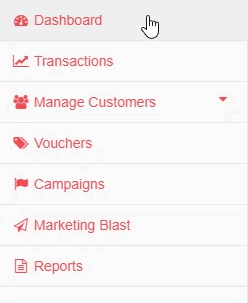 Step 1: Click on the "New Request" button at the top right side of the page
Step 2: Upload an excel file of customers and / or choose a group of customers
Step 3: Select a campaign
Step 4: Choose your DNC request
Step 5: Click on the "Send Request" button at the bottom right side of the page
You may download the sample excel format to work on it.
DNC Filter is for Singapore companies only. If your customers have not agreed to receive marketing SMS messages from you, you will need to filter with the Do Not Call Registry and exclude those numbers listed there.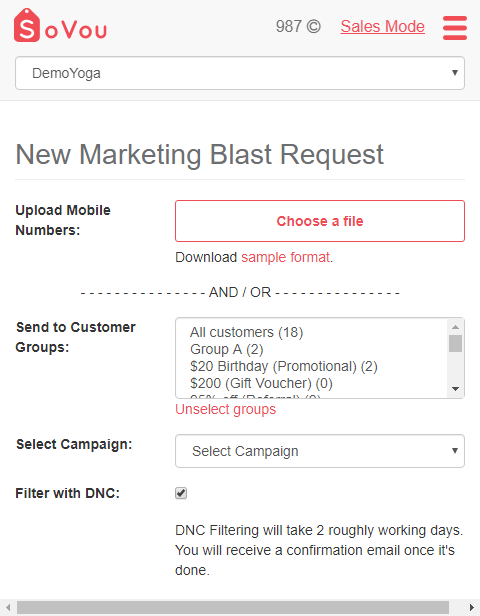 Step 1: Click on the "Edit" button ( 

 ) at the right side of the request record
Step 2: Make the changes you want
Step 3: Click on the "Update Request" button to update the request
You can only delete a request if it's not processed yet.
Step 1: Click on the "Delete" button ( 

) at the right side of the request record
Step 2: Confirm the action to delete the request